Mandinga
Background information
Origin
Bucharest, Romania
Genres
Pop
Years active
2002-present
Labels
Cat Music
Website
www.mandinga.ro
Members
Elena Ionescu
Alex
Chupi
Zach (Valle)
El Nino
Omar
Tony
Past members
Elena Gheorghe

Mandinga is an Romanian pop band from Bucharest. The original soloist of the band was Elena Gheorghe who left in 2005. Since 2006, the new lead vocalist is Elena Ionescu.
After winning the Romanian national final, the group represented Romania in the Eurovision Song Contest 2012 and placed 12th with the song "Zaleilah".
Discography
Edit
2005 - "Soarele meu"
2008 - "Donde"
2012 - "Zaleilah"
2012 - "Europarty"
2012 - "Papichulo"
2013 - "Mac Mac Song"
2013 - "Bling" (with Muneer)
At Own Eurovision Song Contest
Edit
After winning Selctia Nationala 20, Mandinga will represent the country in the OESC #20 contest.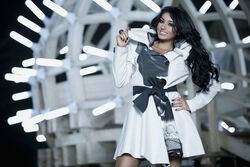 Romania in Own Eurovision Song Contest
Artists
Editions 00s

Editions 10s

Editions 20s

Mandinga

Editions 30s

Editions 40s

Editions 50s
Songs
Editions 00s

Editions 10s

Editions 20s

Editions 30s

Editions 40s

Editions 50s
Countries
Final
(by final results)

Semi-final only
(in alphabetical order)

Semi-final 1

Semi-final 2

Semi-final 3
Artists
Final


Semi-final only
(in alphabetical order)

Semi-final 1

Semi-final 2

Semi-final 3

Withdrawn

Alyona Lanskaya (Belarus)
Andrea Demirović (Montenegro)
Gianluca (Malta)
Jedward (Ireland)
Juliana Pasha (Albania)
Kabát (Czech Republic)
Kalomira (Greece)
Natalia Barbu (Moldova)
Paolo Meneguzzi (Switzerland)
No name (Montenegro)
Zlata Ognevich (Ukraine)
Songs
Final

Semi-final only
(by alphabetical order)

Semi-final 1

Semi-final 2

Semi-final 3

Withdrawn
(Note : "Withdrawn" refers to entries that withdrew after applying to enter)